We all know the feeling. You can vacuum and clean every day and still not avoid the dust everywhere that can fall on your beloved succulents and cacti. I mean, the thick layer of dust may not be visible at first sight, but as you lean in close, it's a real disaster that can endanger the health of your plant.
Cacti and succulents are not the easiest to clean, especially when the dust and dirt get between to spines, which is even worse if you own hairy cacti. But with a little bit of work, it's doable. You don't need any fancy equipment, a small, soft-bristled brush is enough, but we can make it work even without that.
In this article, I will show you how to clean the leaves on your succulents to make them shiny and healthy again. Put on your favorite gardening gloves, and let's dive in! Seriously, you'll need gardening gloves if you don't want your hands covered in spines.
Should you Wipe Dust off Succulent Leaves?
You absolutely should wipe the dust off your plants' leaves.
Even a small layer of dust can block sunlight and hinder the plant's ability to photosynthesize and grow. And plants essentially feed themselves through the sun – they get energy from the sun. By photosynthesizing, a plant converts light, oxygen, and water into energy, which is required to thrive.
Additionally, dust can attract pests and provide a breeding ground for harmful bacteria and fungi.
It seems like a lot of work, wiping one leave at a time, but it can actually make less work for you in the long run. After all, if your plant gets sick, you'll be having a lot more to do than just brushing the leaves once a month or so.
NOTE: How often you should clean succulents' (and other plants') leaves really depends on how much dust is at your home. If you are vacuuming every day and have an air purifier, you won't need to do that as often as someone, who lives in an area sub-rural area and don't have much time to clean.
To find out whether your plant needs a rub, simply run your finger across the leave to check for any dust.
How to Clean Succulent Leaves
Your succulents can accumulate dust and dirt over time, which can negatively affect their health and appearance. That's why it's important to learn how to clean succulent leaves properly.
Luckily, cleaning your succulent leaves is a simple process, and all you need is just a few tools.
Depending on your preferences and also the time you're willing to spend on this, there are a few different methods. My favorite way to clean the leaves is using a basic damp cloth. It's not probably the gentlest way to do things, but I've never heard my plants complain. But it's a lot easier for me than to search through the apartment for a brush, spray bottle, or air blower.
We'll explore all these cleaning methods in more detail, so you can choose the best one and keep your succulents looking their best.
Method 1: Using a Soft-bristled Brush
Probably the best method to clean succulent leaves is to use a soft-bristled brush. This method is particularly useful for plants with a lot of crevices or with delicate leaves.
The bristles will reach any space without doing much damage or putting too much pressure on the plant.
To do so, you can choose a small paintbrush or a makeup brush that you don't use anymore.
Then gently brush off the dust and debris. Do not rub too hard to not remove parts you don't want to remove. Especially some succulents can have a protective white layer that helps to reflect some of the sun rays and reduce the amount of heat absorbed by the plant. This coating is called farina coating.
Repeat the process as necessary. If you notice any hard-to-remove dust, you can help yourself using a spray bottle filled with distilled water.
Method 2: Using Air Blower or Compressed Air
Using an air blower or compressed air in a bottle is efficient, especially for light dust particles. I also love this method to clean harder-to-reach areas of the plant.
When using an air blower or compressed air, be sure to hold the nozzle a few inches away from the leaves to prevent any damage. Also, in the case of compressed air, hold the bottle straight and don't spray for too long. Otherwise, you can cold burn your succulent.
You won't be probably able to clean all the dust and debris off the plant using just air, feel free to combine this method with any other as needed.
Method 3: Use a Damp Cloth or Sponge
As I already mentioned, this is probably my favorite method when it comes to cleaning dust off my succulents.
When using a cloth or a sponge, you should be very careful not to damage the plant. I usually damp a clean, soft cloth in water and gently wipe the leaves from both sides at the time – make a little leave sandwich.
Especially when your plant is really tall, you should hold the stem with your other hand to not accidentally bend it.
Method 4: With a Tweezers
Tweezers can be really useful to clean any small or hard-to-reach areas on the leaves of your succulent.
You probably won't be able to remove any delicate and light dust with this, but it's great for accumulated dirt in the small crevices. But be particularly careful as there is a high chance of damaging your plant with just one wrong move.
How to Make Succulent Leaves Shine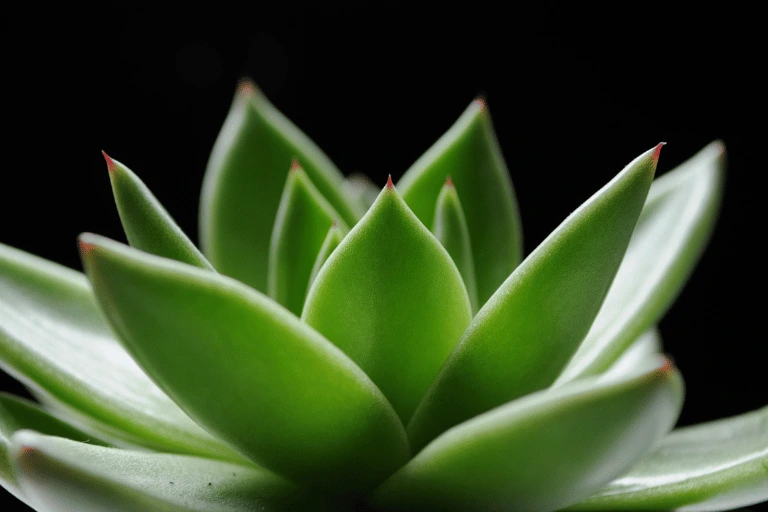 As the title of this article promised, we need to make the leaves shine again. Of course, just removing the dust won't do the trick.
For this, we can either use some fancy, overpriced products or reach for common household items and make ourselves a DIY leaf shiner. And I promise you you'll feel like a wizard mixing a potion.
We'll need water as the base for our shiner. Other than that, it depends on whether or not you want to also disinfect the leaves.
To make the leaves just shine, you can put a few drops of olive oil or coconut oil into the water and mix it all up.
But we can add a few drops of soap to that to prevent infection and help remove any stuck dirt and also vinegar to help remove any mineral buildup or water spots on the leaves.
Your final shine potion will contain:
2 cups of water (0.5 liters)
1/2 teaspoon of vinegar. It's best to use distilled white vinegar, as other types may contain added sugars or flavors that could potentially harm your succulent.
2 drops of soap
2 drops of olive oil or coconut oil for extra shine
After mixing it all up, you can apply it using a spray bottle or cloth. While applying, gently rub the solution into the leaves and switch from one leave to another.
Conclusion
Succulents are very low maintenance and are often the first choice of new plant carers. But that doesn't mean you should neglect them.
In addition to proper watering and plenty of sun, it's also important to give your succulent a little dusting from time to time to ensure optimal growth and health. And the above-mentioned methods are the right for that. Happy gardening!