Is your plant really dead, or just went dormant? It's not always easy to tell. Droppy, wilting leaves or leaves changing color doesn't always mean that your plant is dying. Some plants just look… dead.
Plants don't breathe in a way you can feel or have a heartbeat you can touch, so it's not always possible to know if you've reached the very end. I'm sure I've thrown away a plant that had plenty of life left in it. But no more of that.
In this article, I'll walk you through a few tricks that will help you to tell whether or not your plant is really dead and whether or not it's too late to revive it.
How to Tell if a Plant is Dead
There are plenty of signs that can clue us in on whether a plant is still kicking or if it's dead. Usually, if a plant is really grinding its last, these signs will complement each other. On the other hand, if you only see dry leaves or spongy roots, there's a higher chance that there's something else going on in the background.
That's why you should take a complex look at the plant for signs of life by checking the leaves, roots, and stem. Here are the most important signs of a dying plant.
Check for Damaged Leaves or for Spots on the Leaves
When you inspect your plant, take a closer look at its foliage.
Healthy plants typically have lush, green leaves free from any discoloration or irregular patterns. Keep an eye out for spots, lesions, or holes on the leaves, as these can indicate the presence of pests or diseases.
Yellow spots could be a sign of aphids. Aphids are very common pests that attach to the plant and, with their little needle-like mouthparts, pierce the plant's leaves and stems. Then, they feed on the plant's sap, weakening the plant and taking the essential nutrients from it. Additionally, they inject toxins into the plant's tissues, which disrupt the plant's natural processes, including photosynthesis. As a result, the affected leaves cannot produce enough chlorophyll and starts to turn yellow.
While a few damaged leaves might not necessarily spell doom for your plant, an abundance of them might be cause for concern.
But it wouldn't be gardening if there wasn't an exception to this. Sometimes, discoloration and spots on the leaves are not caused by any extrinsic cause. I'm talking about variegation, which is a genetic mutation that affects the production or distribution of pigments in the leaves. Take a look at a variegated palm as an example from my article about Why is Parlor Palm Leaves Turning White.
In this case, the leaf is not damaged by any means.
Differentiating between spots of discoloration that can be a sign of a dying plant and variegation isn't too difficult. White spots caused by external influences will often appear as random, irregular patches or speckles on the leaves. In contrast, variegation is more consistent and patterned.
Dry and Wilting Leaves
Dried or crispy leaves could be a sign that your plant is not getting enough water. But it could be caused by a wild arrange of other issues, that signs that your plant is dying.
When your plant is infected with a pest or caught some kind of fungus, it can suppress the plant's ability to take up water properly.
But it's also not a unilateral sign. Your plant can be getting enough nutrients, water, and light, but the leaves may still be drying. That's because some plants are programmed to naturally drop their leaves. You're used to seeing bare trees in the winter, but some houseplants do that too, which can easily be mistaken for a sign of distress. They will usually shed older leaves and grow new ones.
Dieback
Dieback affects various plants, especially trees and shrubs. It refers to the progressive death of branches or shoots, starting from the tips and moving inward towards the main stem.
One of the utmost common causes of dieback is stress or damage to the plant, which weakens its natural defenses against pests and diseases. Environmental factors like extreme weather, drought, or soil nutrient imbalances can also contribute to this condition.
As dieback progresses, you may notice affected branches becoming discolored, with leaves wilting and eventually dropping. And if not addressed properly, your plant will eventually die.
To combat dieback, it's important to catch it in the early phase and provide your plant with the optimal environment and nutrients.
Dry or Spongy Roots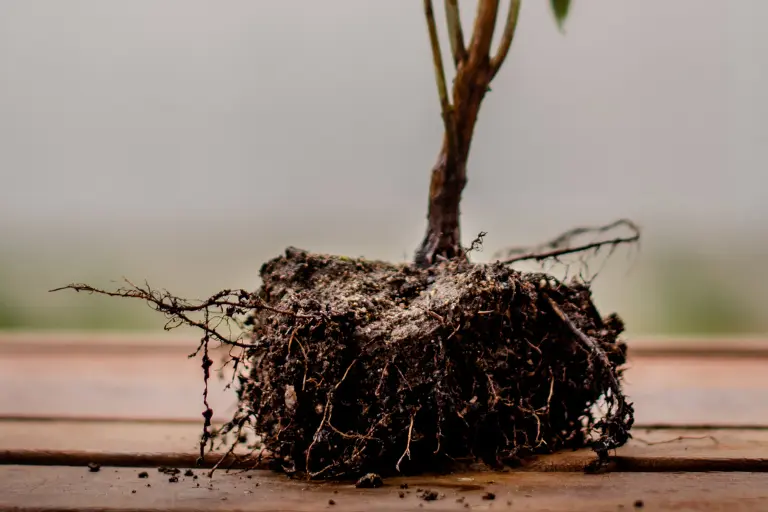 Roots can often tell a lot about the health of your plant. Oftentimes damaged roots indicate that something is seriously amiss beneath the surface of your plant.
Healthy roots play a vital role in absorbing water and nutrients from the soil but also serve as the foundation, providing stability and anchoring the plant.
Dry roots are often the result of underwatering or soil that lacks adequate drainage, depriving the roots of the moisture they need to thrive. On the other hand, spongy roots are an indication of overwatering, which causes the roots to suffocate and rot due to excess moisture. Root diseases, such as root rot, can eventually destroy the root tissue and kill your plant.
It's essential to provide your plant with proper watering. Ensure that the soil is well-draining and that you water your plants enough to keep the soil moist but not mushy.
If your habits lead to long-term overwatering, I'd suggest replanting your plant with fresh soil. While doing that, you can inspect the roots of your plant. Healthy roots should be firm, white, and spread evenly throughout the soil.
Check the Stem
A healthy stem should be firm, sturdy, and free from any obvious signs of damage or discoloration.
If the stem broke, was it a clean break, or did the stem shred? A vital stem should be fibrous and white to greenish in color. If the stem straight-up snapped, it probably doesn't retain any water and is dead.
To be sure, with a fingernail or pocketknife, scratch the broken stem a bit further to check if there're any signs of green and moisture. If so, chances are your plant is gonna make it.
How do you know if Plant Roots are Dead?
The easiest way to check if the plant roots are dead is to dig it up and check. This can conveniently coincide with your annual replanting routine.
When you carefully remove the plant from the soil, healthy roots should appear firm, crisp, and white. Another vital sign to look out for is the presence of fine root hairs.
If you observe discolored roots, such as brown, black, or mushy ones, they may be dead or suffering from root rot. A lack of root hairs or a sparse root network doesn't necessarily mean anything bad just now but could be a sign of root decline.
Is a Plant Dead if All Leaves have Fallen Off?
No, a plant is not necessarily dead if all its leaves have fallen off. However, it can be a sign that your plant is dying.
Even houseplants can shed some of their leaves to replace them with new ones. But they won't lose all their leaves at once.
If the leaf drop happens outside of the usual shedding period or if the plant shows other signs of distress, such as dry or spongy roots, a wilting stem, or a lack of new growth, it may indicate that there are underlying issues affecting the plant's health. In such cases, it's crucial to investigate further to identify the root cause of the leaf drop.
Check whether or not your plant is properly watered, if it's free of pests or fungi, and if it's getting enough light and nutrients. Don't forget that the issue can also be hidden in the soil, you should also check the roots and possibly replant your plant.
Is a Plant Dead if the Leaves Start to Change Color
Very similar to the example above, the browning or yellowing of leaves can happen naturally during their replacement. One or two brown leaves don't mean the end of the world.
However, if you can see multiple leaves with dark spots on them, it can indicate some issues. Change of color usually means one of two things; either you are underwatering your plant, and it doesn't have enough energy to sustain those leaves, or it can also indicate sun damage.
If the plant is getting too much direct sunlight during the day, the leaves will burn. Sunspots on leaves can't be fixed, and the leave will stay discolored, so in that case, it's better to snap those and let the plant create new ones.
How to Tell if a Plant is Just Dormant or Dead
If we put aside all that checking of leaves, roots, and stems, sometimes you can glimpse your plant, and it'll look different than usual… so dead. If that's close to the winter months, chances are that it just went dormant.
When a plant is dormant, it enters a period of rest to conserve energy and survive adverse conditions, such as cold weather. During this time, the plant may shed leaves or appear lifeless, but it still retains a certain level of vitality.
The easiest way to tell if a plant is just dormant or dead is to search for signs of green tissue in the stem. It's a bit harsh method, but functional.
Select a stem and bend it. With this test, you are checking for moisture – if the stem bends, it retains moisture, and the plant is probably dormant. If it snaps, it's probably dead.
If your plant passes the first test, it's time to scratch the stem a bit with something sharp – preferably, a knife or your fingernail should be enough. If the flash underneath is white to greenish, your plant is alive.
If you are still unsure, check the plant's roots. You'll have to dig the plant of their container, but it's the most accurate method.
Can Dead Plants be Revived?
Your first task is to check for signs of life. You can use the three easy steps from the previous section. If your plant is completely dead, there is not much you can do, unfortunately.
However, if the plant shows a tiny bit of life, there's still a chance to bring your dying plant back. But it's now crucial to give the plant exactly what it needs.
Plants need water to survive and thrive. So first, focus on perfecting your watering schedule, make sure it's not getting too much or too little water.
Although it may be tempting now, don't fertilize dying plants. It indeed needs nutrients to get back up, but nutrients from the soil will do it for now. The plant is too fragile now, and the added chemicals may be the final nail in the coffin. You shouldn't repot the plant now, as it causes a lot of stress. But if it was in the pot for too long, you can start very, very slowly with fertilizers, ideally organic ones.
And lastly, give your plant some finishing touches and trim away any dead or dry parts. Although the plant no longer sends nutrients to those areas, they do not contribute to the plant's growth or vitality in any way. But dead parts can attract pests and diseases, which can spread to the rest of the plant and cause further damage.
Plants that Look Dead but are not
In this last section, let's look at a plant that does look very dead but actually even isn't dormant but very alive. I want to talk about the resurrection plant, which can go from a dry ball of apparently dead leaves to a lush rosette.
Resurrection plant labels many plants that can survive extreme dehydration for months or even years, then magically revive when exposed to moisture.
When you get one, you will see this ball of what looks like dry leaves. I am sure you wouldn't be able to find green inside those, but they are very alive. After you introduce it to water, it will revive within 3 hours.
In the wild, Ressurection plants grow in arid areas of Central and South America and southern North America, especially in the Chihuahuan Desert along the border of Mexico and Texas. When it stops raining, it will go fully dormant and stay like that for as long as needed before it rains again.
When you get one, you will get a ball of curled leaves. You just need to place it into a bowl with water and watch the resurrection begin! Within 3 hours, it will fully open, and in a few weeks, it will get back its rich green color.
Bottom Line
It's not always easy to differentiate between a plant that is already dead, currently dying, or fully dormant. Or at least until now, it wasn't.
Now you know that a dead plant will usually have dry leaves, dry or spongy roots, and the stem will be empty of water and will easily snap. Once the stem snaps, you won't see any greenish color, as you would in a healthy one.
If you checked all these things and found signs of life, there is a high chance you will be able to bring your plant back to life. At that point is very important to provide it with enough water, nutrients, and light.