Yea, I have seen it too. Social media channels are full of videos of someone eating black strawberries. If you're like me, I bet you've been wondering if black strawberries are real or better, if strawberries can be any color other than red.
I remember picking those sweet and tangy red strawberries in my grandmother's garden on late spring afternoons. But it turns out that there are not only red strawberries but also white, purple, and other wild colors! However, the truth is that black strawberries do not occur in nature. However, there is one variety that comes close enough to be considered black.
In this article, we'll explore where the buzz around black strawberries comes from and what crazy-colored strawberries you can actually find in nature. Let's dive in!
Do Black Strawberries Exist?
I would love to take a bit out of black strawberries, but the truth is, they don't exist in nature. In fact, it's not even something you would want to eat.
The original black strawberry was created by artist John Robertson for an award-winning photographer Jonathan Knowles more than 20 years ago. He crafted a strawberry fruit from resin and painted it black.
I know I said that you don't want to eat that. But technically speaking, resin is not toxic, or rather it depends on whether other chemicals are mixed into it or not.
But the fact that black strawberries do not exist hasn't stopped scammy sellers from taking advantage of the hype and creating listings on eBay or Amazon, and other online stores, offering seeds or straight-up whole black strawberries for sale.
That's, of course, very misleading. Even if the fruit has a darker hue, it will become, at best dark purple but never jet-black. This also applies to blue strawberries, which don't exist either.
So if the listings are not genuine, why no one complains? The reason is simple. By the time the customer realizes that it was a scam, it is too late. First of all, it takes 3 months on average for strawberries to bear fruit if you plant them from seeds. The scammers appear very quickly with every new trend and disappear just as quickly. Additionally, a quarter of a year is long enough to completely forget what was supposed to grow from those seeds in the first place.
Can you Grow Nearly-Black Strawberries?
As stated above, you can't get full-black strawberries, but you can get close enough with dark purple.
Purple Wonder is the variety of strawberries that creates beautiful purple fruits. It's a result of crossbreeding between different varieties of strawberries, developed by Dr. Courney Weber, a plant breeder at Cornell University in New York.
If you wish to have purple strawberry in your garden or patio, you should be looking for the plants. While it's possible to grow Purple Wonder from seed, it is generally not the most reliable or efficient method. This is because the seeds may not produce plants that are true-to-type, meaning that the resulting plants may not have the same characteristics as the parent plant.
But be ready to pull out your wallet, as this exotic variety can be quite expensive. While a standard strawberry plant will cost you around 2 bucks, you can pay ten times as much for a Purple Wonder plant.
What other Color Varieties of Strawberries can you Find?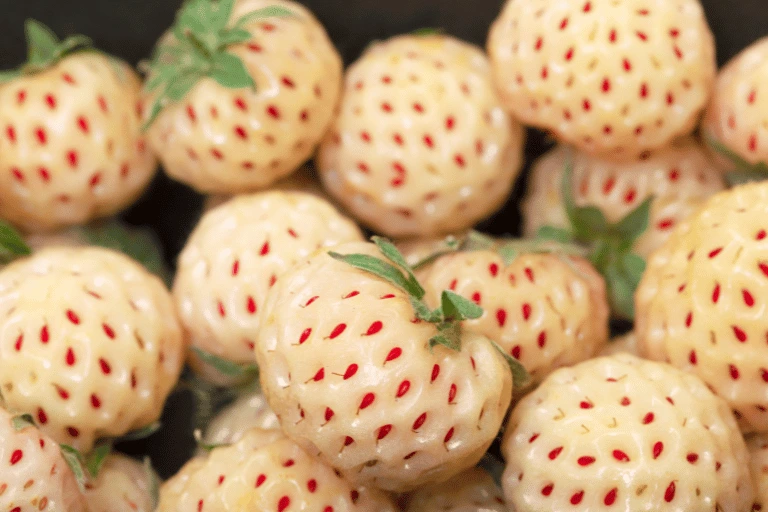 Strawberries are commonly associated with bright red color, with green tops and yellow-ish seeds. But over time, the number of strawberry varieties increased.
People just love new things, so plant breeders all over the world interbreed different variations to create new and unique berries. However, the different colors do not differ so much in taste. The biggest difference between different colors is in the sugar content. Some of the most common color variations, but still rare and quite expensive, include white, yellow, pink, or purple.
White strawberries, also known as Pineberries, are a unique and uncommon variety of strawberries that have white or pale pink flesh and red seeds. They have a sweet and slightly tangy flavor that is similar to conventional strawberries but with an essence of pineapple.
Most unusual strawberry varieties often resemble a pineapple. Yellow strawberries, standardly bought as Yellow Wonder, also have subtones of pineapple but are less sweet, slightly tart in flavor.
Or you can also get pink or purple strawberries. We've already discussed purple strawberries, which are actually sweeter and have an outstanding strawberry flavor. Pink strawberries, also known as Pink Pearl or Pink Panda, have a pale pink or salmon color. taste a lot similar to purple ones.
But in my opinion, they are not worth it. To get a plant of one of these special strawberry varieties, you'll likely pay ten times as much compared to standard strawberries to get a truly unique visual but pretty common taste.
Conclusion
Unfortunately, there's no such thing as black strawberries. It's a myth that all started with a talented artist who created a resing strawberry and painted it black. Don't fall for it when you see someone offering it as a "rare variety."
However, there are other cool colors strawberries can develop, ranging from white to dark purple. And I bet any of those can be delicious with chocolate poured over it!