As the end of the season is approaching, we use loads of mustard seeds for all sorts of pickling liquids and salad dressings. You're not the only one who is tired of running to the grocery store every week and buying a new, rather expensive packet of mustard seeds. So what about growing our own mustard?
Mustard is very easy to grow. Like way too easy that it's actually considered a weed, invasively growing everywhere in nature. However, mustard seeds purchased in the spice aisle in your local grocery store can be a little harder to germinate. And for two main reasons.
First, it's difficult to guess how long the seeds sat on the shelf. Although many spice packets are vacuum-sealed, so this shouldn't be the biggest obstacle.
What's worse is that spices are usually steam-treated before packaging. Heat treatment aims to kill all bacteria present, but it can also kill seeds' ability to grow.
But we'll try our best, right? Spoiler alert: My mustard seeds from the grocery store successfully germinated. So it's time to plant yours. Let's dig in!
Does it Matter if you use Yellow or Black Mustard Seeds?
When it comes to mustard seeds, you can find them in different colors in the grocery store. But does the color make a difference?
Well, the short answer is yes, it does matter, but not in a way that should keep you up at night. Both yellow and black mustard seeds can be grown successfully from store-bought packets, but there are subtle distinctions between them.
Yellow mustard seeds tend to be milder in flavor, making them a popular choice for pickling and creating classic yellow mustard. On the other hand, black mustard seeds pack a bit more heat.
So the choice between them depends on your flavor preferences and how you plan to use them. In terms of growing them in your garden, the process remains quite similar.
How to Plant Mustard Seeds from the Grocery Store?
To get your nearly infinite mustard seed supply, you'll need just a few essentials: mustard seeds, a small pot or garden bed, well-draining soil, water, and some patience. Here's how to get started.
1.

Select your Container and Soil
A mustard plant has a somewhat shallow root system. My testing batch did very well in soil that was just about 6 inches (15 centimeters) deep. So the container doesn't have to be super large.
If you are planning to plant the mustard seeds in your garden, choose a place that receives abundant sunlight, ideally six to eight hours a day. The same light requirements apply to a place to put your container in.
Mustard plants aren't overly particular about soil type, but good drainage will only benefit their well-being.
Once you have everything ready, fill the container. If you want to enrich the soil's quality, you can add a bit of compost before planting.
2.

Plant the Seeds

Now that you've prepared your container and soil, it's time to introduce those grocery store mustard seeds to their new home.

Gently sprinkle the mustard seeds onto the soil's surface, spacing them about an inch apart.

This straightforward planting method is typically effective. But I have a more thorough approach for you.

Place some of the mustard seeds on a damp paper towel and seal them in a plastic bag or container. Over the course of a few days, you'll notice some of the seeds sprouting.

This method not only speeds up the germination process but also allows you to identify and discard seeds that may not have been viable to begin with. It will usually take 3+ days. If you can't see any signs of life after a week, those seeds can be discarded.

When using the second method, you want to place sprouted seeds below the soil surface. Using your finger, create holes in the soil and carefully transplant them in. Once the seedlings are in place, cover the holes with soil and lightly press down to secure them.

The next step is the same for both methods, and that's to give the soil a shower. Gentle water the soil to settle the seeds or seedlings in.
3.

Sun, Watering, and Finally Harvesting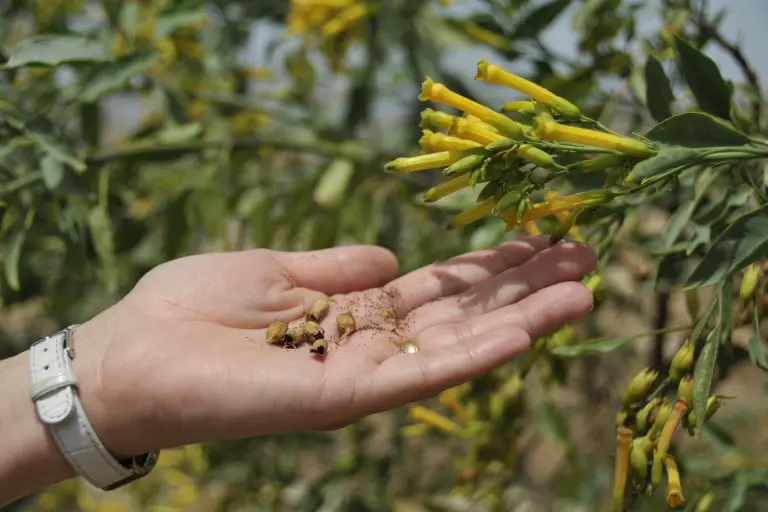 Place your container in a spot where it receives ample sunlight, ideally 6-8 hours a day.
When it comes to watering, keep the soil consistently moist, but be cautious not to overwater, which can lead to problems like root rot. As a general rule of thumb, you should be giving your mustard plant about one or two inches of water per week. But it, of course, highly depends on the location and climate conditions.
Mustard seeds typically germinate in about 3 to 10 days. Growth rate can vary based on the age of seeds and growing conditions, but young mustard greens can be ready for harvest in approximately 30-40 days.
If you're looking to get mustard seeds and not mustard greens (which are genial in any salad, strongly recommend them if you haven't tried them yet), you'll need to allow the plants to grow for longer. This essentially means waiting double the time. Mustard plants will eventually bolt, sending up tall flower stalks. Then, as the flowers fade, seed pods will form in their place.
Before you go…
Growing mustard seeds from the grocery store is just the first step. I mean, you won't eat only mustard greens for the rest of the year, right? So what about growing spinach from scraps next? I promise you that it's even easier than growing mustard seeds…